Come as you are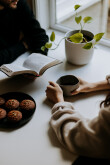 You don't have to dress up. You don't have to be a particular age. You don't have to pretend to have it all together. We don't. Shoestring is a group of ordinary people who are learning to know and love an extraordinary God.
We've come to realize that life is found in Jesus Christ - knowing him, following him, becoming more like him. No matter where you are on your spiritual journey, you're welcome to learn and grow with us.
Shoestring - a place to belong, a place to grow.